Bodies with uteri in India have always been a site of asserting control, policing, imposing limitations in the name of 'population control', 'family planning' or 'women empowerment'. On this Sexual and Reproductive Health Awareness Day, FII in collaboration with Rangeen Khidki, are taking a look at a look at 'family planning' and the state of sexual and reproductive rights in India.
1. Radha's story
Radha*, a 23-year-old married woman based in West Bengal, underwent a C-section delivery two years ago in a government facility. When she was discharged, she found that an Intrauterine Contraceptive Device (IUCD) had been inserted into her uterus without her prior consent. When she protested, the nurse humiliated her and told her that it was done for her own 'benefit' and that the IUCD would save Radha from visiting the hospital next month with another pregnancy.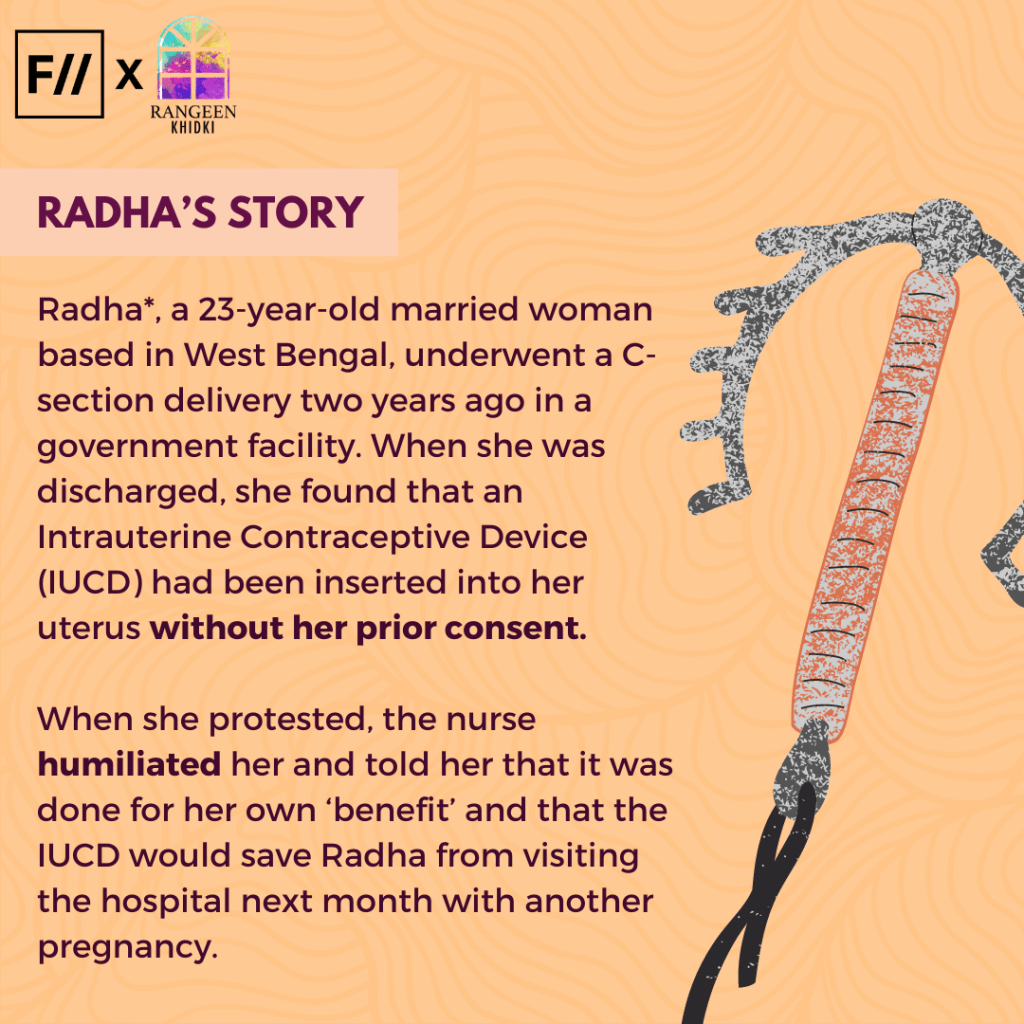 2. Why does this happen?
This was done to Radha on the assumption that she or her husband were not responsible enough to use any contraception. For more than a year, Radha had to endure painful periods twice a month while also nursing an infant alongside. After almost a year of suffering, Radha got the IUCD removed by a registered medical practitioner with the help of a local social welfare organisation. She was also able to opt for an alternative contraceptive method of her choice out of the methods that were offered to her.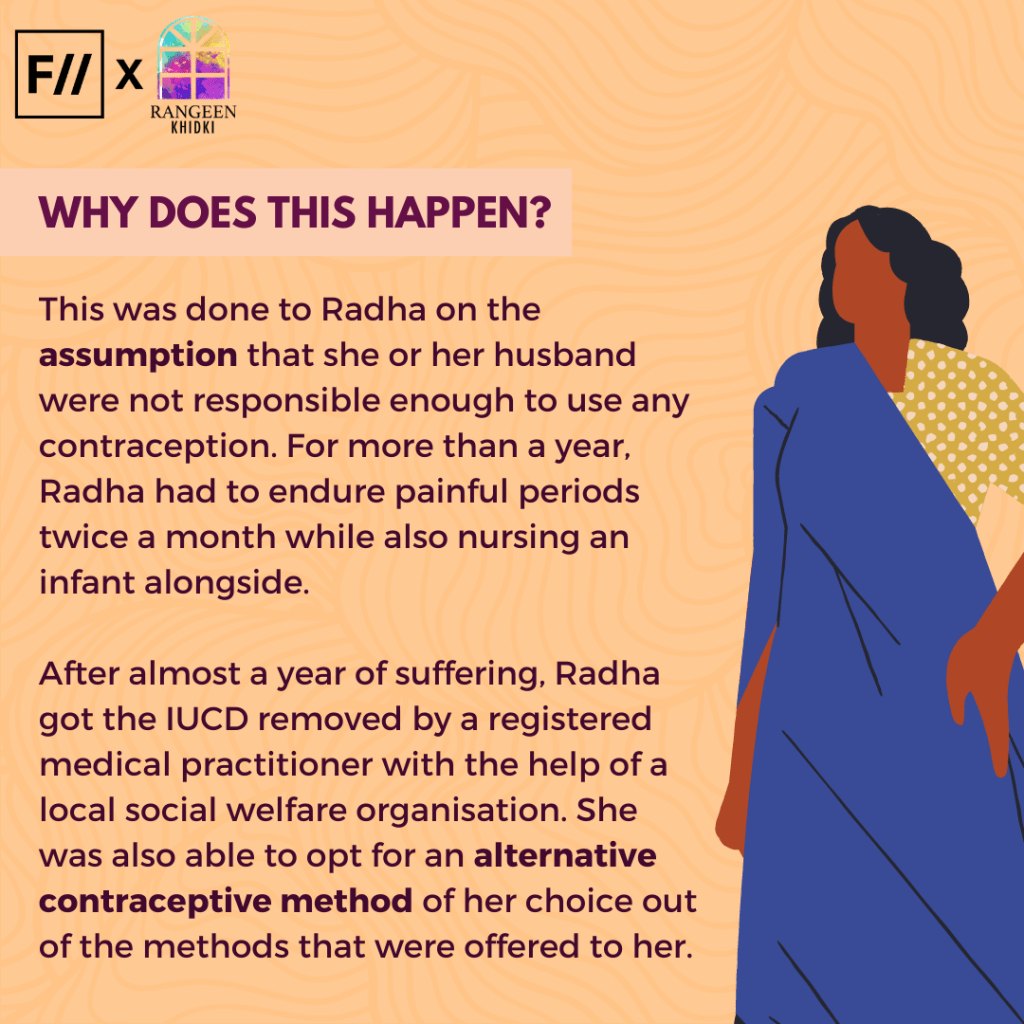 Also read: Family Planning In India And Its Anti-Women Approaches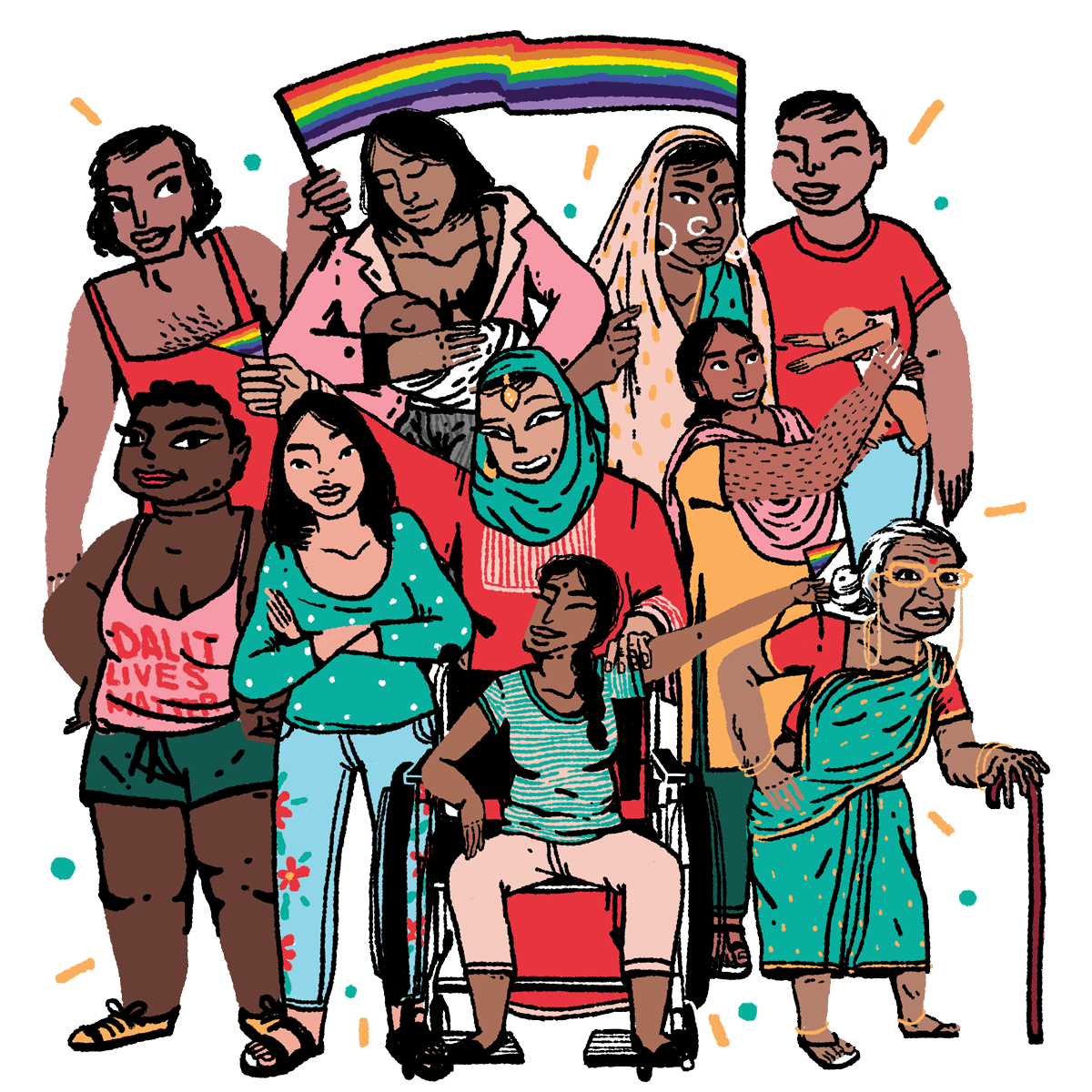 3. Not just Radha, but many more
But this is not an isolated incident. What happened with Radha has often happened to many people with uteri, especially those who are from marginalised communities. There have been multiple reports of long term contraceptive methods like IUCDs being installed in their bodies without their consent. The narrative that a person from a poor, lower caste community has no other recreation other than procreation driven or country's family planning programs.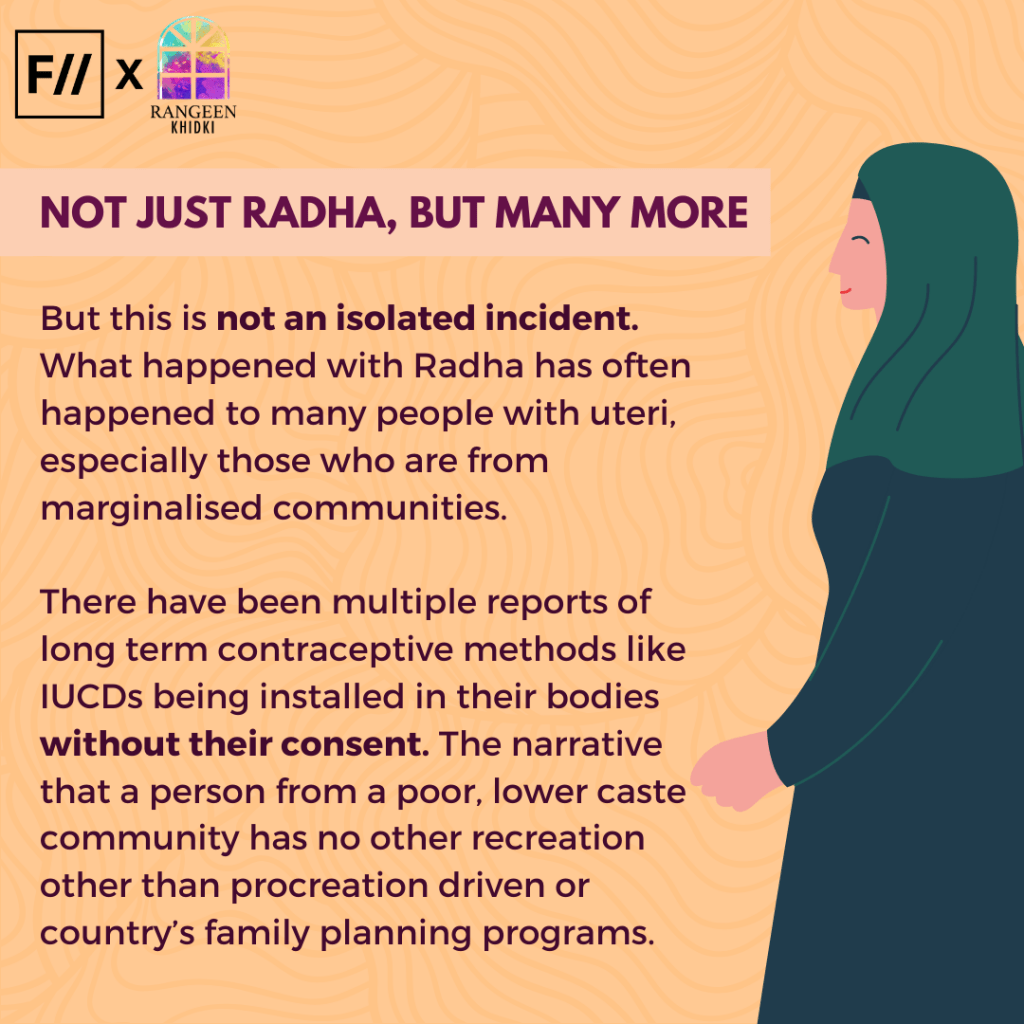 4. Family planning in India
This biased outlook has led not just to violations and misconducts from the service providers' part but also destroyed the entire essence of family planning, which at its core wants to promote a healthy sexual and reproductive life for all individuals. Since its inception in 1952, family planning in India has been about controlling the bodies of people with uteri. They have often been forced to use contraceptive methods that they might not have agreed to use.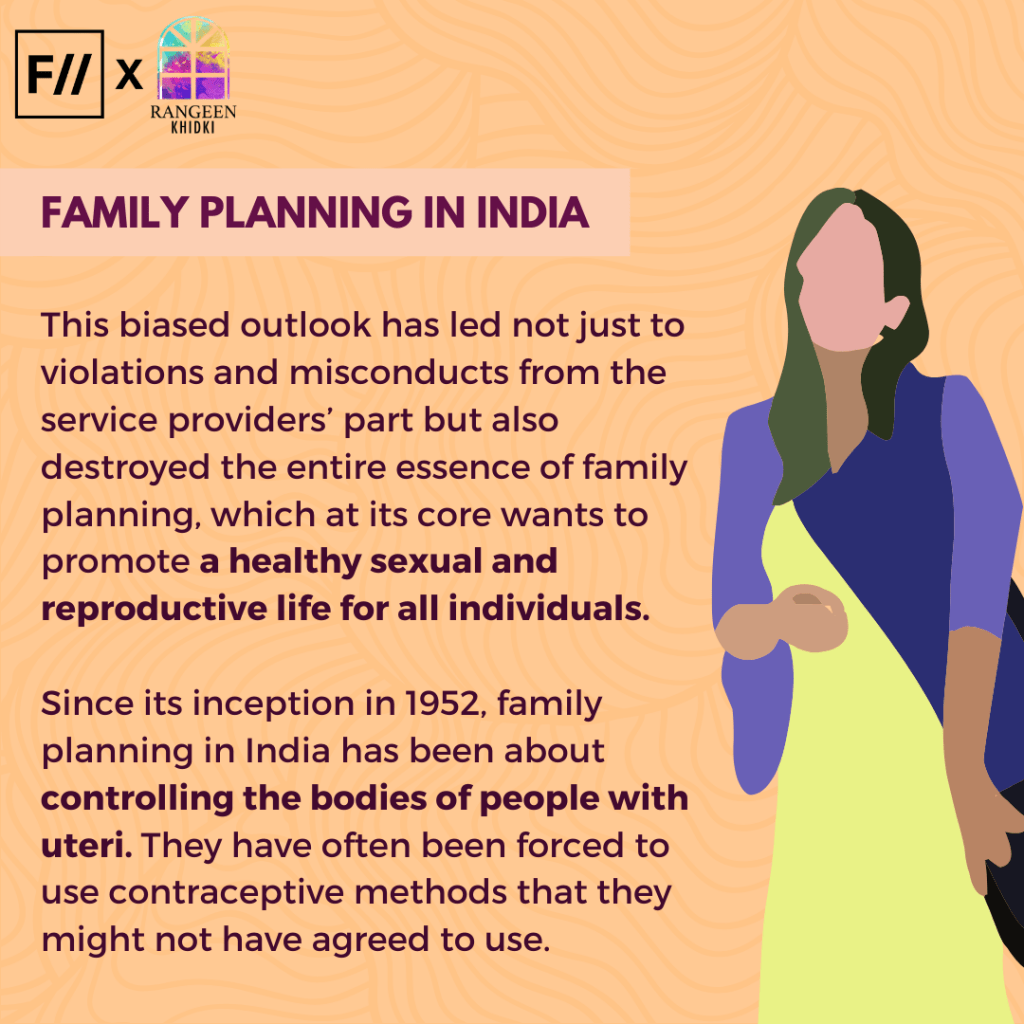 5. The gendered burden of contraception
A close look at the National Family Health Survey-4 data supports this argument. It reveals that out of 47.8% of the total modern contraception methods that are in current use in our country, 41.6 % are subjected to the bodies of a certain gender – women or people with uteri. Due to socio-cultural ideas associated with masculinity and virility – they have had to historically bear the emotional, physical and mental brunt of the burden of contraception.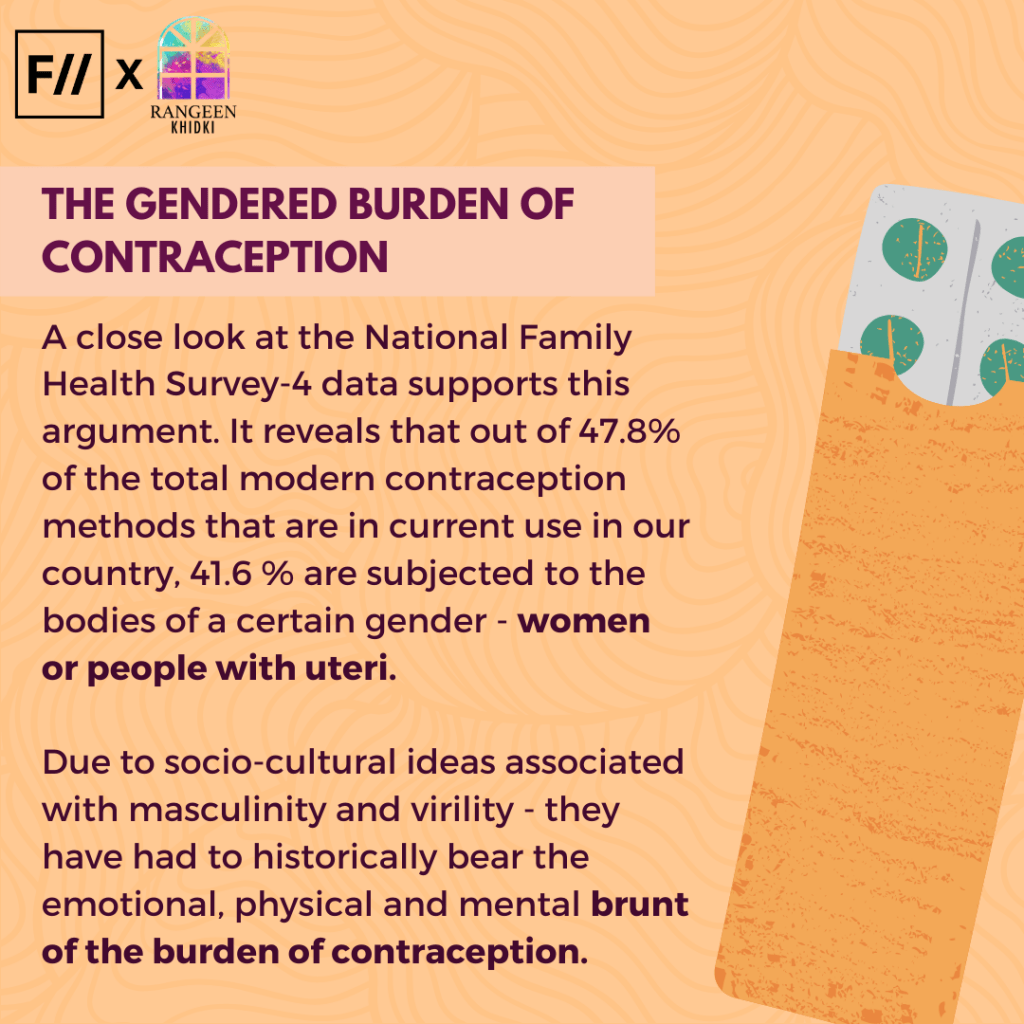 6. The State and the state of SRHR in India
Access to effective family planning and contraception can contribute greatly to gender equality and women's empowerment by allowing them to have control over their bodies and fertility. However, what we witness is women and people with uteri being at the receiving end of forced sterilisations, hysterectomies, forced insertion of IUCDs. This even happens often at the hands of the State!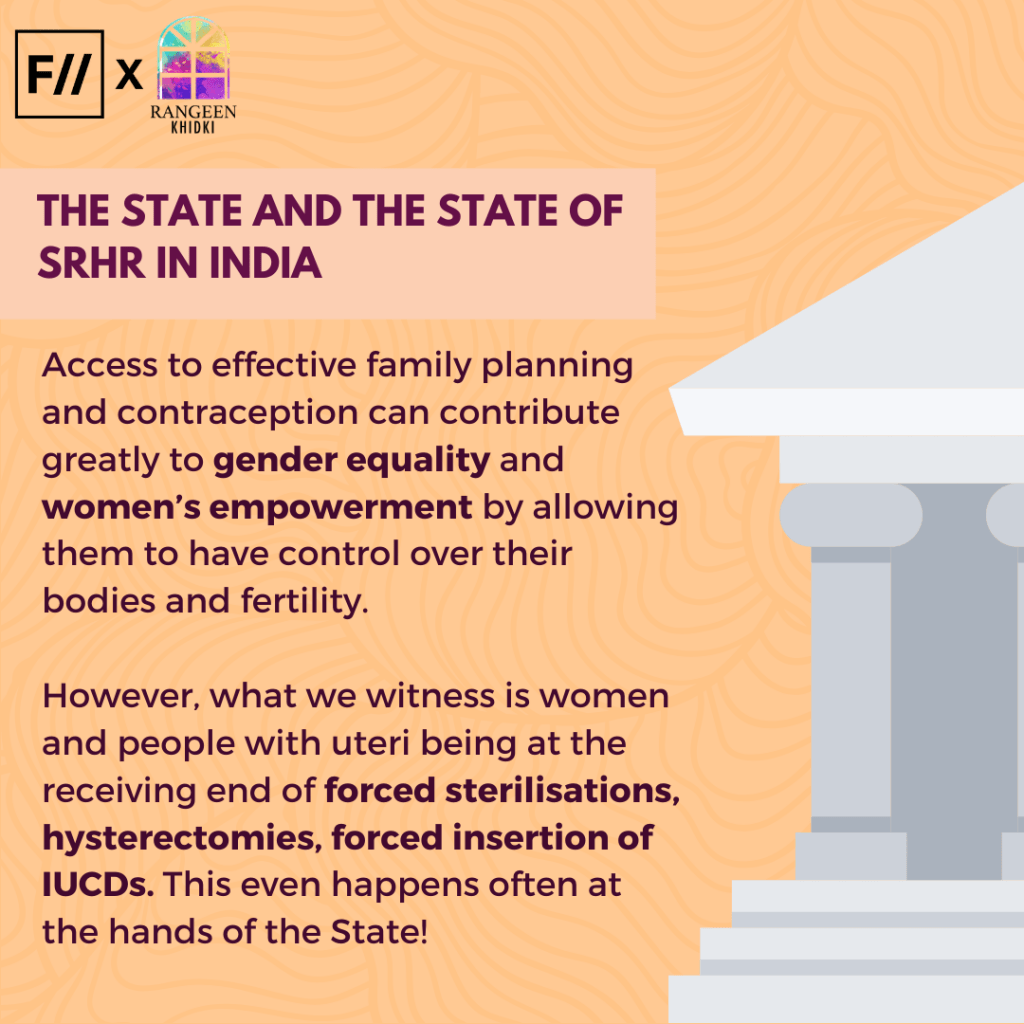 7. Who is impacted the most?
It is important to note how these violations often take place towards bodies that are marginalised and vulnerable. Would the same happen to a person with a uterus that was upper caste, upper class, and cis-gendered? These violations also have grave consequences. They negatively impact the physical, mental, and socio-cultural well-being of the people whose rights to bodily autonomy, privacy and information were or are being breached.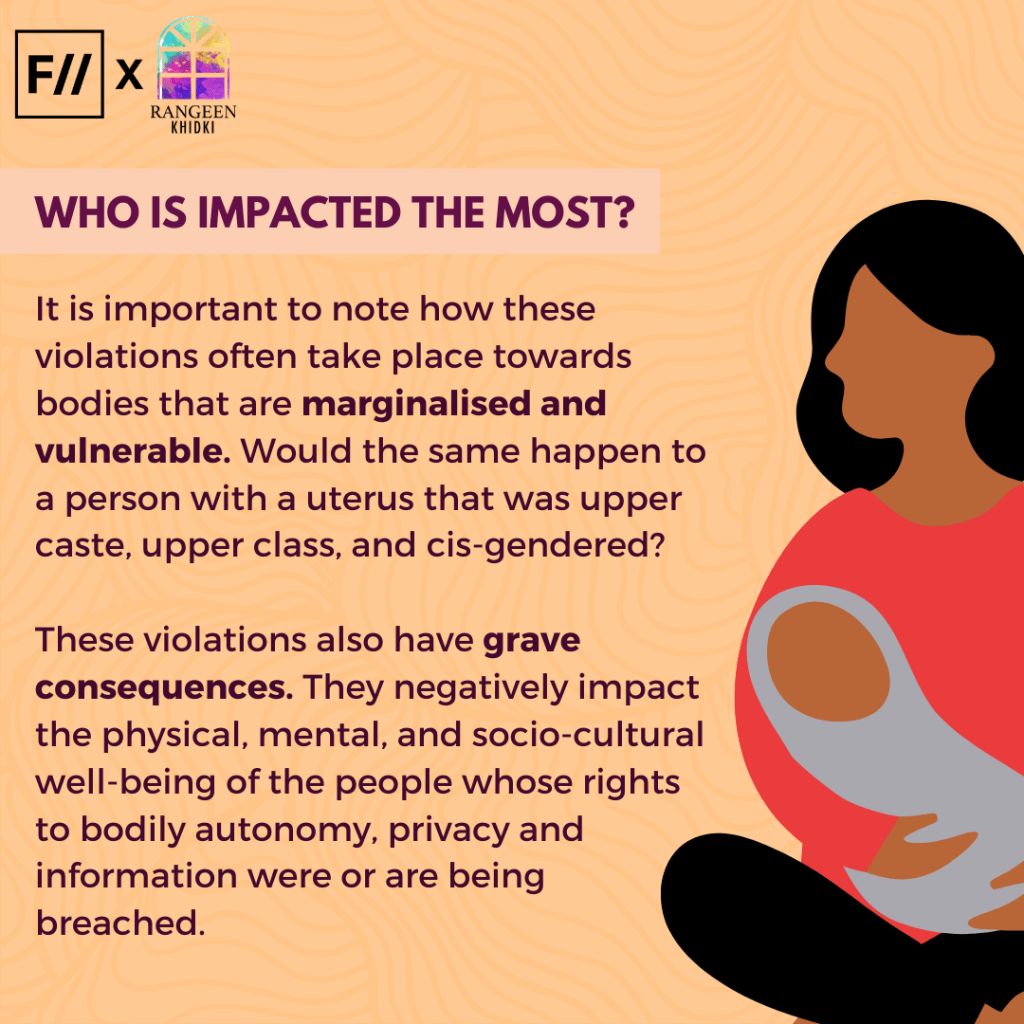 8. Sexual and reproductive rights = Human rights
The State imposes limitations in the name of 'population control', 'family planning' or 'women empowerment', and it is baffling to witness the normalisation and acceptance of such violations of autonomy and agency of people with uteri. On this Sexual and Reproductive Health Awareness Day, it is important that we understand how the sexual and reproductive rights of a person are intrinsic to their human rights.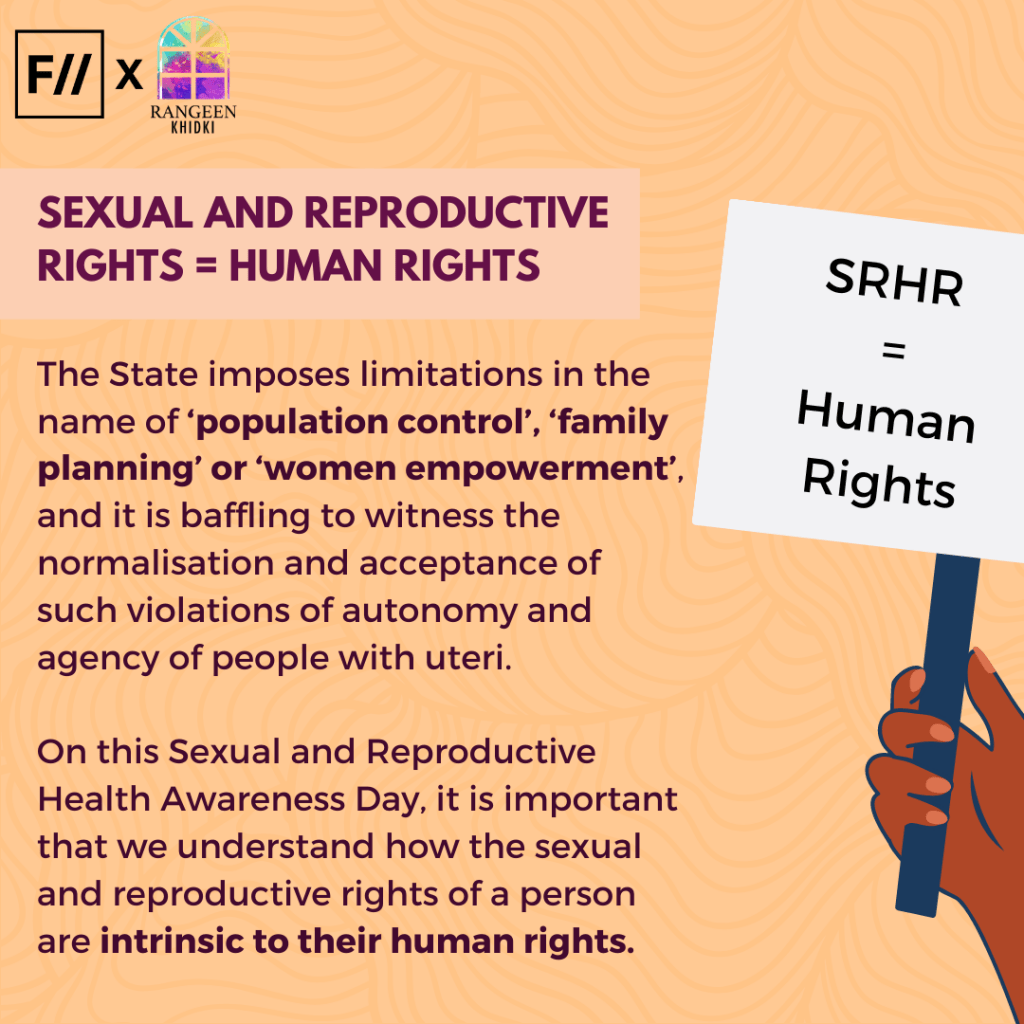 Also read: Looking Back At The History Of Forced Sterilisation In India And Why It Concerns Us Even Today
9. The problem with 'population control'
Implementation of such family planning methods in such a forced way widens the existing gender disparity, and pushes individuals already at the margins further into conformity towards subservient gender roles. So, we need to ask ourselves, does the State really care for us or are we just a number to be managed?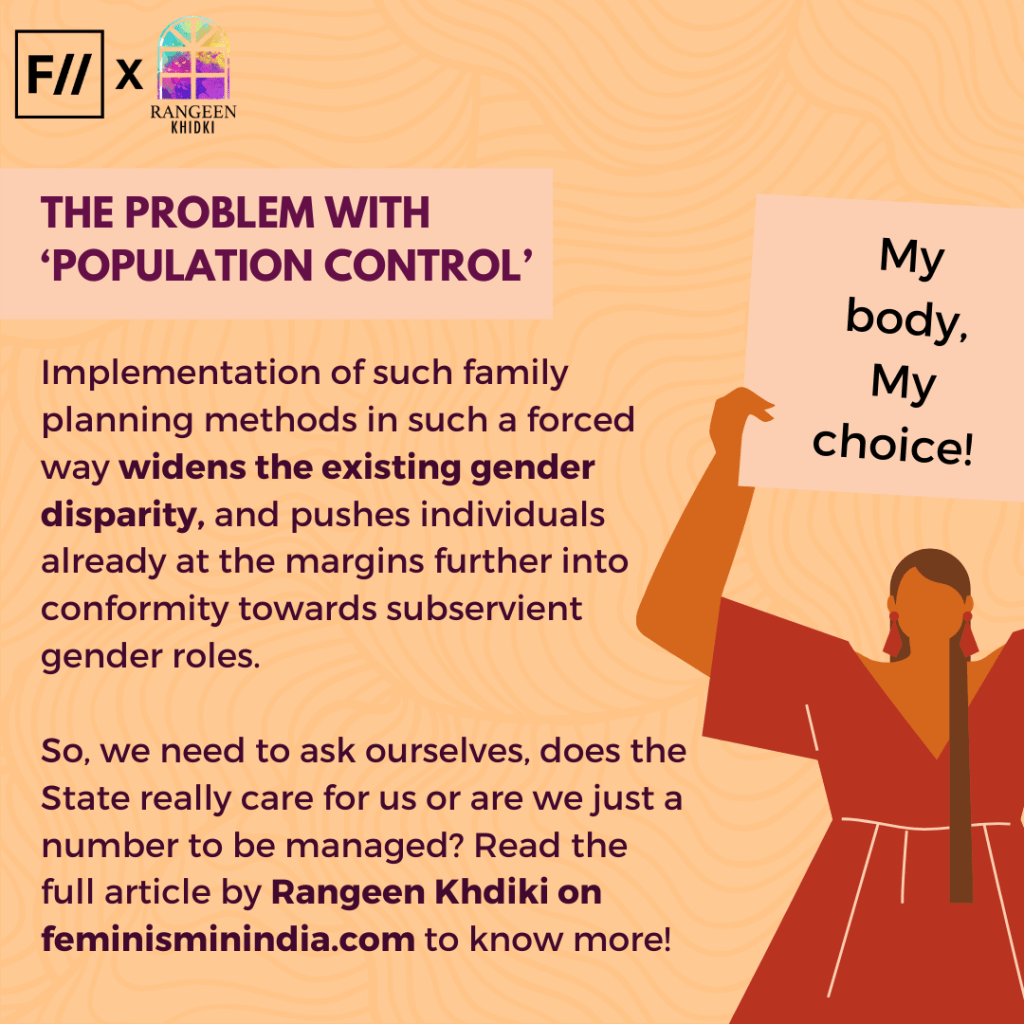 This series based on the article Population Control And Its Prejudices Against Marginalised Bodies by Padmaja Pati and Sanjina Gupta from the Rangeen Khidki Foundation, a feminist youth led organisation based in Kolkata working in the space of sexual and reproductive health and rights.
---
Find Rangeen Khidki Foundation on their Website, Instagram, Facebook and LinkedIn.