As we step into a new year full of possibilities, some of us are more scared than optimistic about the prospects that 2021 could have in store for us. Given the low bar that 2020 set not just because of the pandemic, but also because of several other socio-political factors, making new year resolutions do not seem just that exciting anymore. However, this year we at Feminism In India (FII) have decided to subvert mainstream narratives around self-improvement and new year resolutions and have come up with feminist new year resolutions to stick with and follow through in days to come!
1. Swati Singh says in 2021, she would like to work on ground in rural areas with an intersectional feminist perspective and would ensure FII Hindi onboards more women writers from rural and marginalised backgrounds.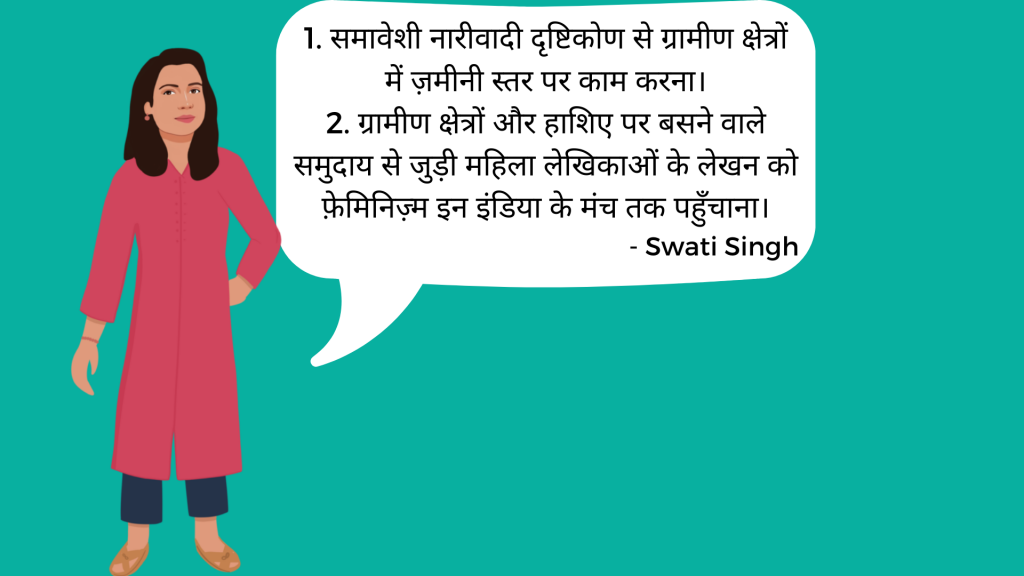 2. In 2021, Purnima Singh has decided to not participate in brahamanels (populated by dominant caste people) and flag this to other organisations as well; read anti-caste literature written by Dalit, Bahujan and Adivasi scholars and put an end to sealioning by friends and family or anyone for that matter, especially when she can clearly tell people are not interested in learning.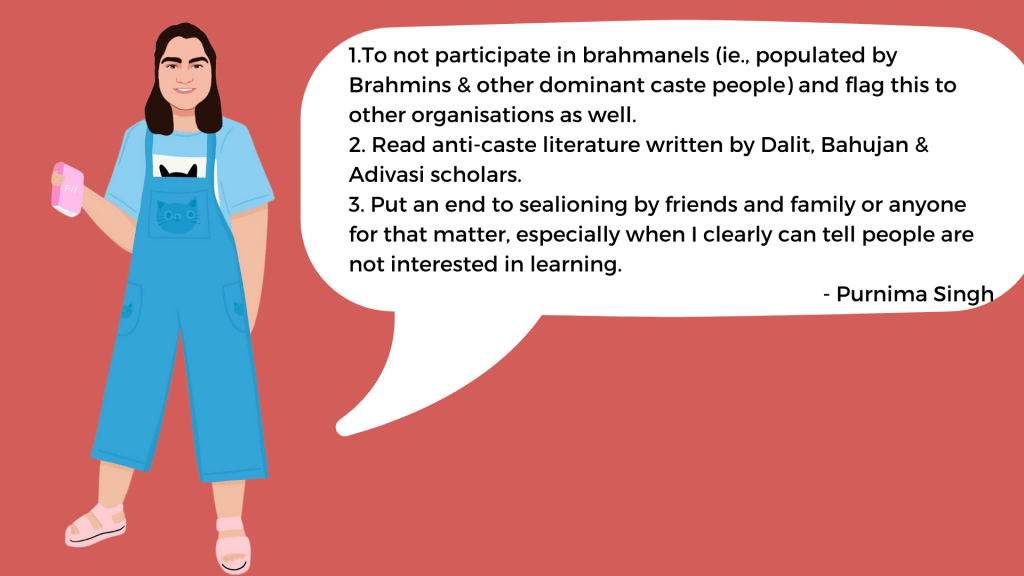 3. Ritika Roy says that in 2021, she will keep in mind to initiate more on-ground conversations with women around her about basic feminist issues such as women's rights, and health. She would like to step outside her present circle to broaden her understanding of feminism by focusing on issues that concern common women, middle-aged women and the women in rural areas.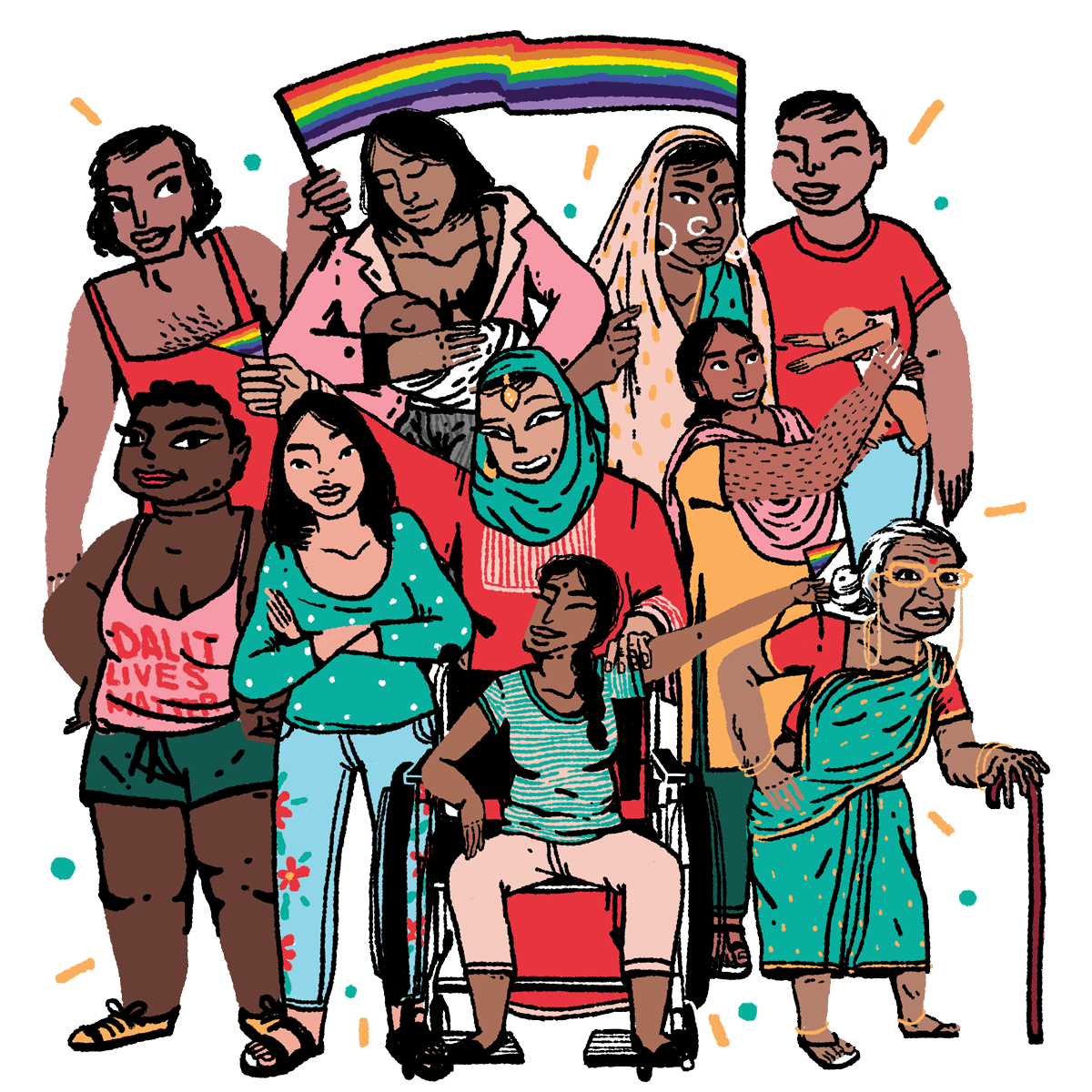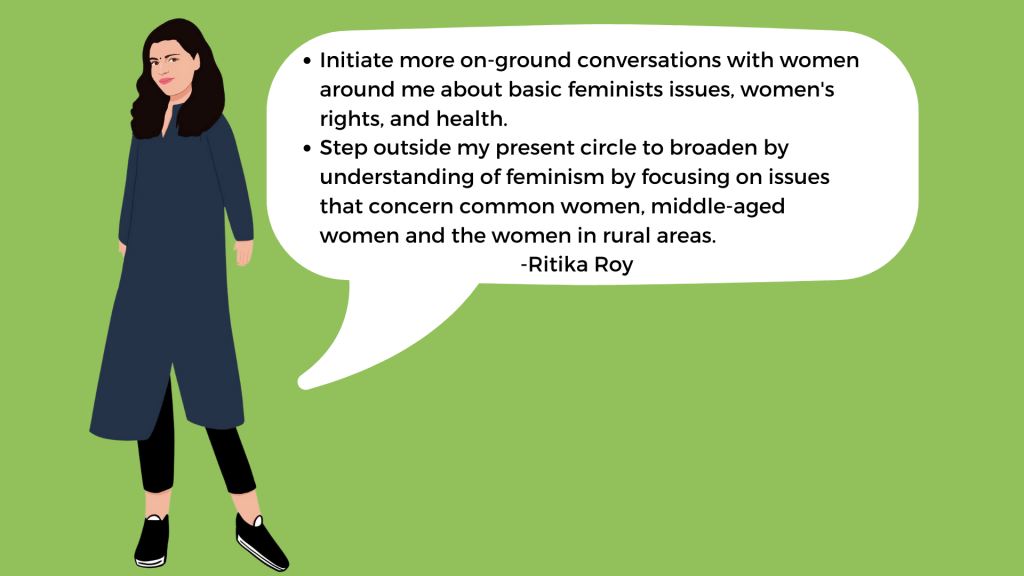 4. Nalini Menon says that her 2021 feminist resolution is to read more literature on the anti-caste movement and by DBA (Dalit, Bahujan, Adivasi) authors. She would also try to be more empathetic and kinder to people.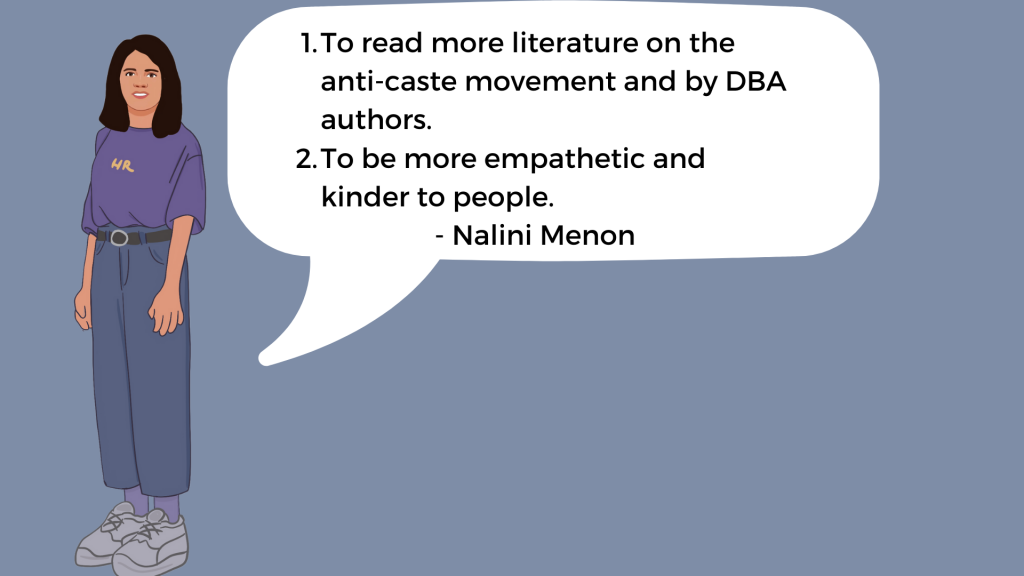 5. Nishtha Shanti has put her foot down in 2021 and is determined to be more active in calling out her friends and family when they engage in problematic behaviour, even at the risk of being a "buzzkill".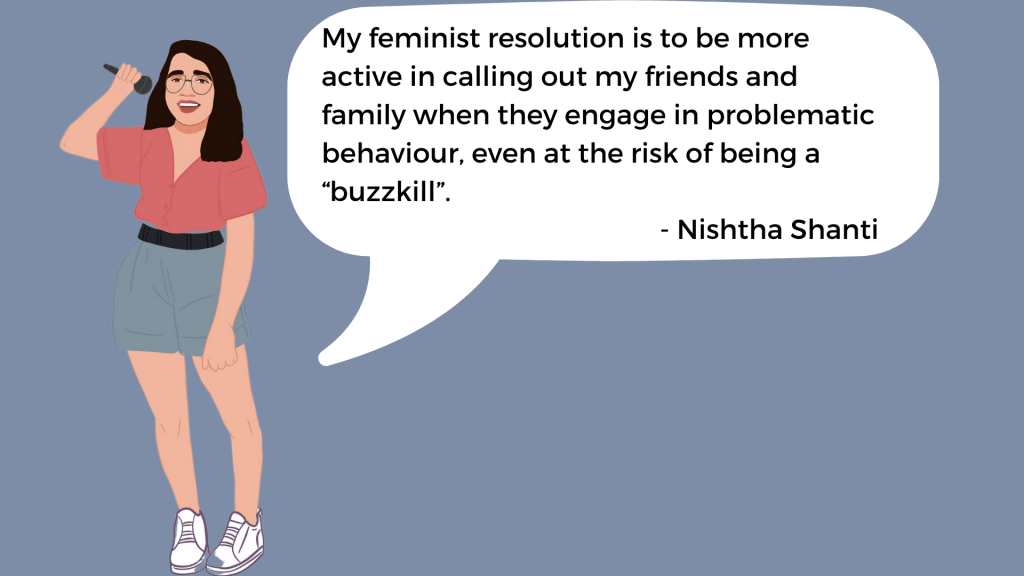 5. In 2021, Shreya Tingal wants to learn and understand intersectional feminism by reading more and diverse feminist literature. She'd also like to create feminist art that reaches the masses and is easily understood and accessible in multiple languages and across various classes.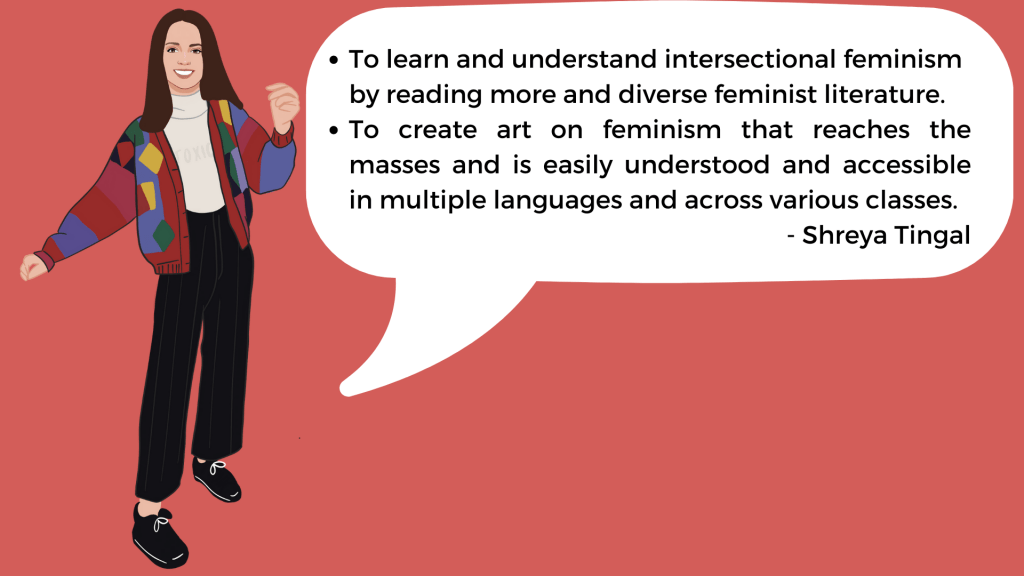 6. For Soumya Mathew, 2021 will be the year she will learn to not self-depreciate her body and mind and embrace herself as she is. She also plans to dissent a little louder closer home because she believes questioning one's loved ones' bigotry is the hardest.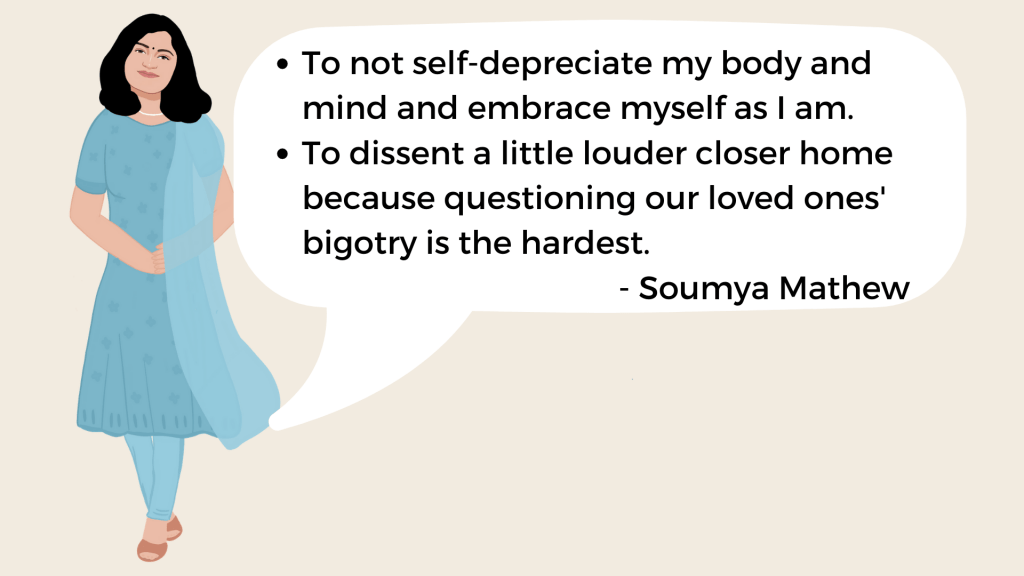 7. Japleen Pasricha, in 2021, is determined to read more and diverse women writers, say no to cis-men populated manels, pass on the mic when we don't belong to the particular community in spotlight, to be kinder on social media and ask before assume.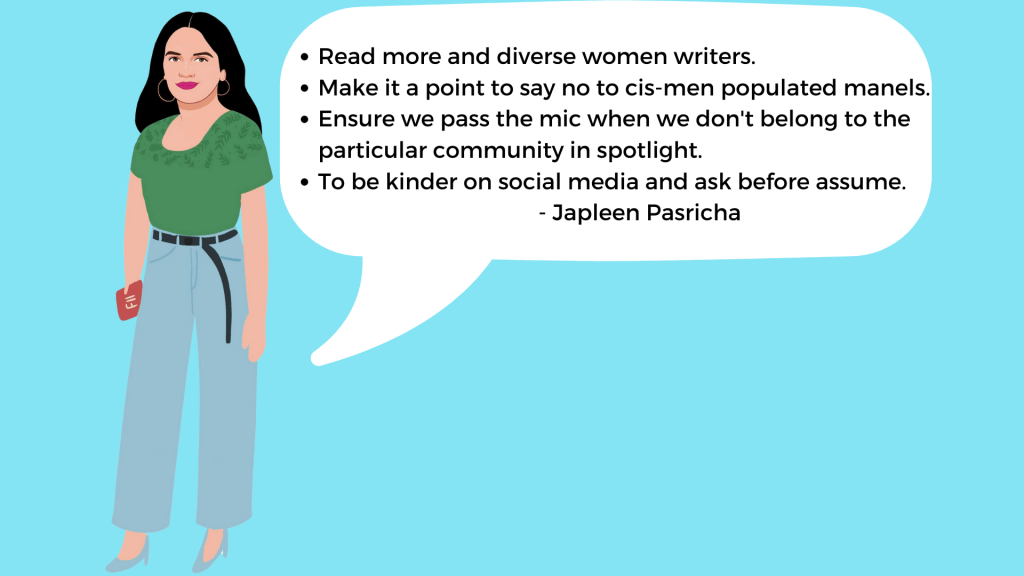 8. In 2021, Manasi Pant has decided to read as many books as she could and become more assertive as a person.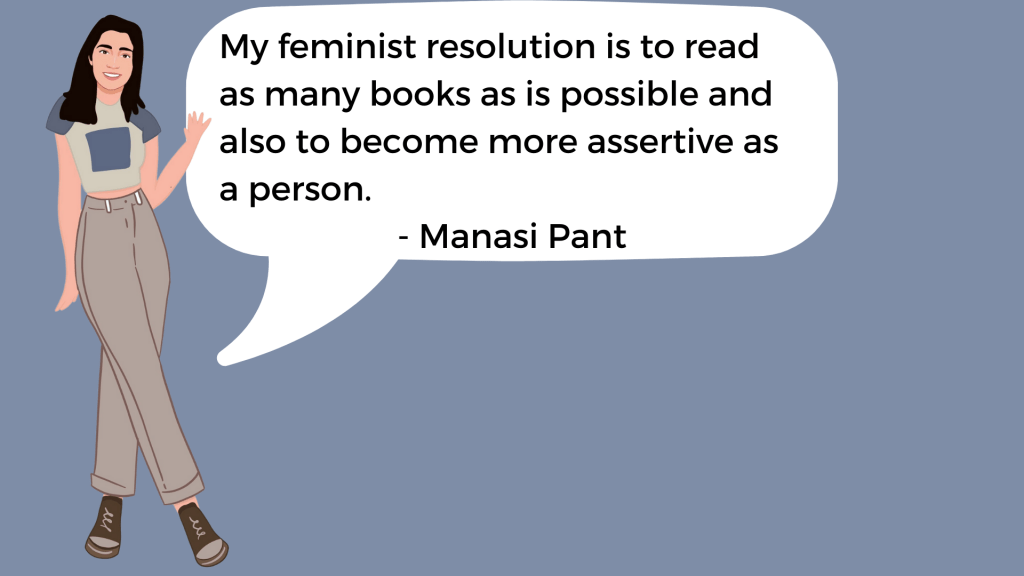 9. Pragya Roy wants to be try and be more inclusive in her thought, language, writing and activism in 2021.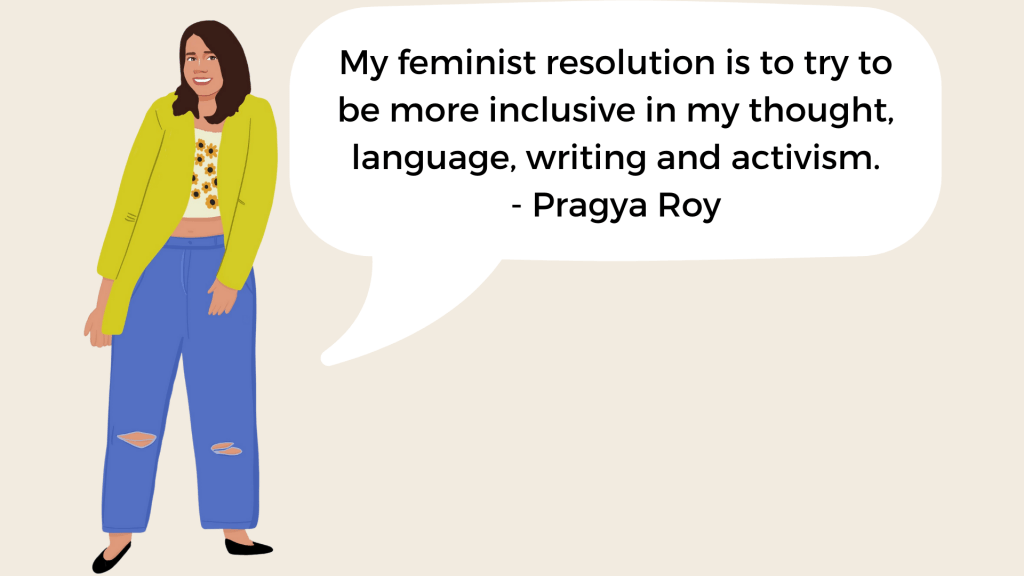 So now you know what the FII team will be up to this year! What are your feminist resolutions for 2021? Let us know in the comments section below!
Also read: 20 Stories On FII That You Loved The Most In 2020 and FII Year In Review: 2020